Oversized Art
A well placed oversized piece of art can really finish off a room in a way that stops you in your tracks and makes you want to linger. I have always been deeply impacted by art and I love to see such grand gestures made toward the art world. I think we as human beings would be lost without art in its many forms. I know the perfect song to wake up to really dictates my mood for the day and I know art in its 2D forms can similarly affect me.
Many people shy away from such dominant artwork out of fear, but don't be afraid and embrace your favorite artwork by displaying it proudly. It, like so many things in our lives, are very personal. These personal insights into our mind, emotion, thoughts and everything else intimate can be slightly unnerving to display to the world, but if you tell people your favorite song you should just as readily show your favorite artwork.
I have posted a quote before about art and I would like to reiterate my thoughts on the use of artwork in interior design. 
"I have far too much respect for art to reduce it to decoration. A picture should never be bought to be a part of decoration….if a picture isn't loved for itself and by the person who buys it, it shouldn't be bought at all."
— Billy Baldwin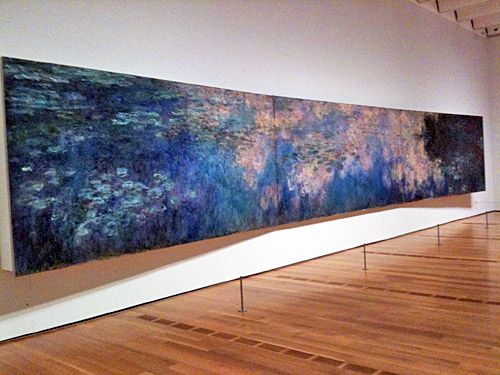 The large scale of art is not a new concept by any means. These examples show just how large Monet often created his works of art.
Pieces at these scales really pull you into this dream world. They have a way of making you feel like you are in the art in a way that no other art form can.  Your imagination is allowed to run wild in this new world you have stepped into. It is large enough that you can not even see beyond its frame when you stand in front of it. You almost seem to drift into a sleep in order to turn your imagination world into real life. This is one of my favorite things about loosing myself in a museum. 
I hope you learn to see art as a focal point and not just as something to fill space. It should be personal and meaningful to you most importantly. Enjoy exploring to find the perfect piece, don't just settle on a generic poster.